Calls and Messages¶
To make a SIP/VoIP call you'll first need to enter the recipient's SIP information into your contacts:
Write the name of the contact in Name field. The name can be anything easy for you to remember the contact, it doesn't need to be part of the SIP address.
Enter the SIP address in the SIP URI field. The format is: sip:[account_name]@server_url
Press the Save softkey to save the contact.
Note
If you have LoRa radio, you can store LoRa contact and send LoRa messages. For more information please visit LoRa Documentation at : https://wiphone.io/documentation/
Make a Call¶
If you have an account with a SIP provider that supports landline calling, you can also dial the number directly as you would with any regular phone.
Press the button to end a call.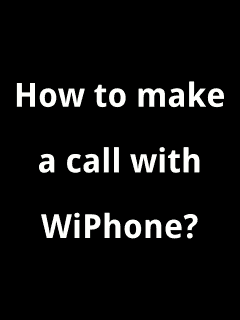 Messages¶
Enter the address of the recipient in the To field and enter the message text in the Message field.
Press the Send softkey to send the message.
OR
Select Send Message and enter the message text.
Press the Send softkey to send message.